There isn't any better way of decorating your home during Diwali than making beautiful Rangoli all around the home. And, so we are here providing you with the easiest yet the most enticing Diwali Rangoli designs that will mesmerize anyone and everyone. There are various forms of Rangolis that can be made like funny Rangoli, leaf shaped, Ganesha-shaped, a Rangoli with some message, peacock-shaped Rangoli and many such. People can look out for any of these Rangoli designs and make that in their homes as per their needs.
Here are a few of those really magnetising and captivating Rangoli designs that will catch anyone's attention. Get a hang of it beforehand before the day of Diwali and decorate your office or home with it on Diwali.
1. RANGOLI DESIGN WITH LORD GANESHA
Ganesha pattern Rangoli design is probably the easiest of all and literally one does not have to do anything. They just have to make the Ganesha with the colour and with big circles. This one is one of the best for the beginners. Instead of being easy to be made they also look bright and beautiful.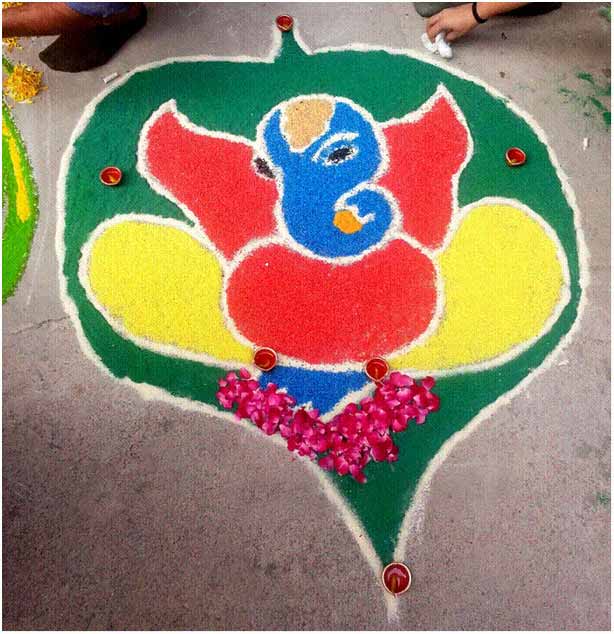 2. PEACOCK-SHAPED RANGOLI DESIGN
This one is again a fun to do Rangoli design that is not only easy to make but it also looks charmingly beautiful and delicate. You can try this peacock-shaped Rangoli designs either at your home or at your office and win the hearts of people around you.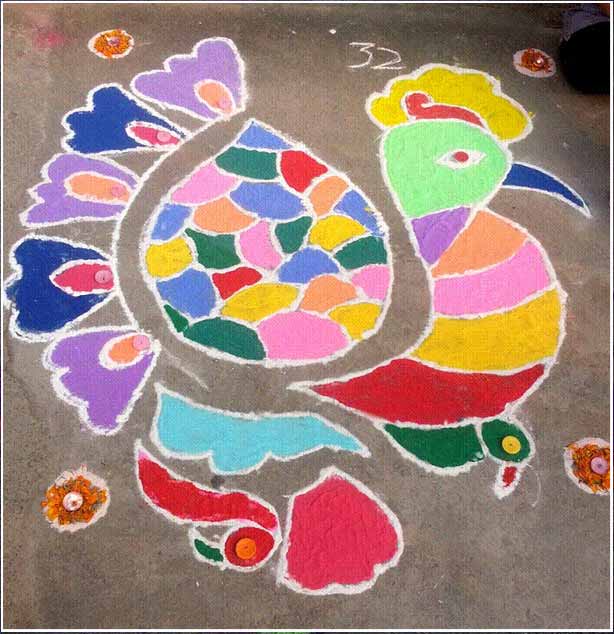 3. ROUND PEACOCK RANGOLI
People think that it's quite tough to be adept at making Ragoli but it really isn't!! All you need to do is put a bit of your creativity. All though, this round peacock-shaped Rangoli seems tough to make but it is quite easy to make. You just have to learn how to make the shape and then you can easily fill in the colours inside.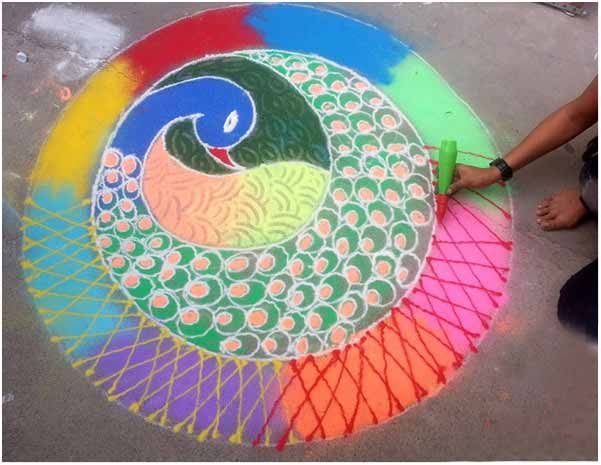 4. PEACOCK-SHAPED RANGOLI DESIGN WITH DRUM
This beautiful and unique design of peacock with drums will and tabla will lighten up and deck up the aura of your home. It looks so pretty and beautiful!!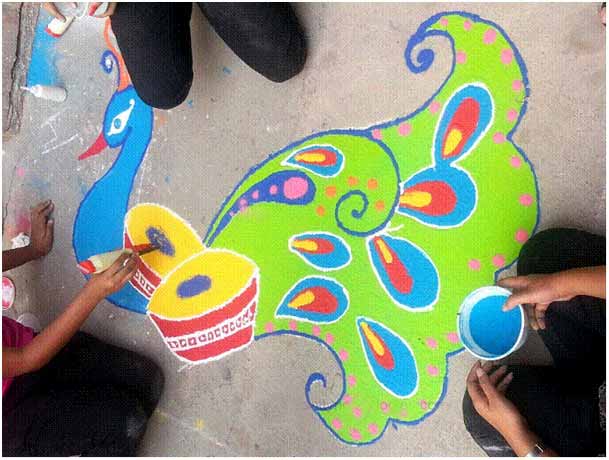 5. RANGOLI DESIGN WITH FLOWERS
Use beautiful and fragrant flowers to make Rangoli during diwali!! It will not only beautify your home but will also add fragrance to the air all around the home. It's easy to make yet beautiful to look at.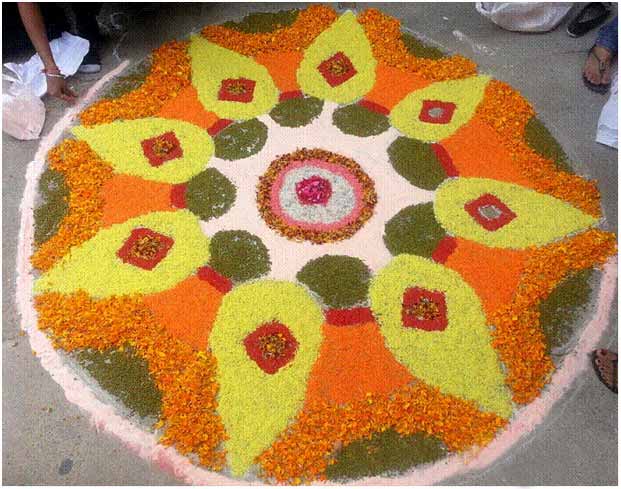 6. DIWALI RANGOLI WITH FLOWERS AND DIYAS
Diyas and lights are the most attractive thing about of Diwali and so it's great to make Rangoli made with flowers and Diyas. The best thing about this Rangoli design is that , it can be made very easily. Rose and marigold flowers are best option to choose for making these Rangolis.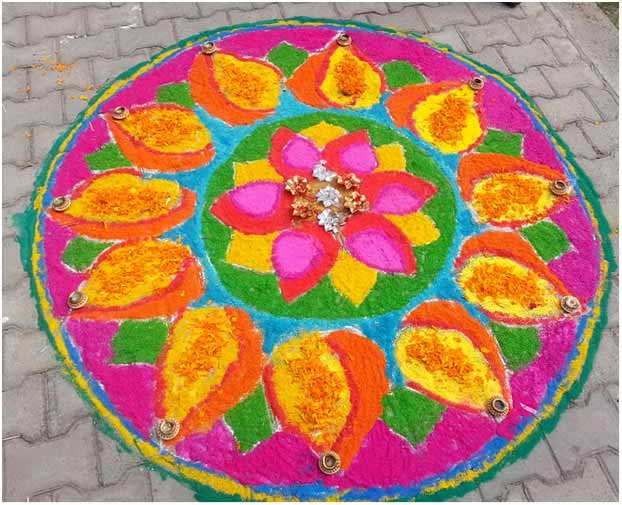 7. THEME BASE RANGOLI OR RANGOLI WITH SOME SOCIAL MESSAGE
You can use Diwali to give some social message like for cancer or any other message. You can use bright colours to give lasting impact.
8. FUNNY RANGOLI DESIGN
You can create some light atmosphere all around your home!! Don't miss any of the chance to laugh and give your life something special. It could be quite an untraditional way of creating fun in your Diwali celebration.