Recipes for Deepawali

JALEBI
Ingredients : White gram dal - 500gm
Water - 1litre
Sugar - 1kg
Coconut oil or refined oil - 1kg
Jalebi colour (orange) - 5 drops
Salt - to taste
Preparation :
Finely grind the white gram dal with little water. Mix salt in it and make a smooth batter of semi-thick consistency.
Heat sugar in a pan and add water into it. Add the jalebi colour and remove from the fire when it thickens.
Heat oil in a thick bottom vessel. Squeeze the prepared batter into the oil through a thin layered cloth. While squeezing the batter, first make three rounds and a flower shape on top. When it is done (don't fry), remove from oil. Allow oil to drain. Put the jalebis into the warm sugar syrup. Take out after they soak in the syrup for about 15 minutes. Make jalebi's with the whole batter.
BESAN LADDU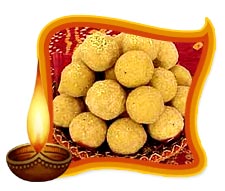 Ingredients :
500 gm besan, sifted
500 gm ground sugar
200 gm ghee
1 tsp green cardamom or elaichi , powdered
Preparation :
Heat the ghee until it smokes, then lower the heat. Add the besan and fry on a medium heat until it is a golden colour. Take it off the fire for two or three minutes and add the sugar.
When it is cooled to a comfortable temperature, grease your palms with ghee and form the mixture into balls.
Set aside to cool and harden. Store in air-tight containers.