Recipes for Deepawali

MOTI CHUR LADDU
Ingredients :
2 cups besan
1 & 1/2 cup sugar
10 pods cardamom
1/2 cup raisins
Ghee or oil for deep frying
Preparation :
Mix besan with 1 &1/2 cup water to make a smooth batter free from lumps. Powder cardamom and keep aside.
Fry raisins in a little ghee and keep ready. Make sugar syrup with sugar and 1 cup of water. Keep the syrup till its consistency reaches a long string stage. Hold a perforated ladle over oil.
Pour some prepared besan batter on the ladle and the drops will fall through the holes of the ladle on to the hot oil. Cook on low flame, stirring continuously. Continue till the batter is cooked.
Now mix boondi, sugar syrup cardamom powder, raisins and stir well.
when the mixture is cool, shape into laddus of desired size.
CABBAGE 'N CARROT BHUJIA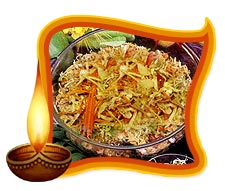 Ingredients :
4 tablespoons oil
1 tablespoon whole black mustard seeds
1 dried red chilli
1 cabbage, finely sliced
350 grams carrots, coarsely grated
1 green chilli, cut into thin strips and seeds removed
1/2 teaspoon sugar
4 tablespoons chopped, fresh coriander
1 tablespoon fresh lemon juice
Preparation :
Heat oil in a frying pan, saute mustard seeds and dried red chilli for 1 minute. Add cabbage, carrots and green chilli. Reduce heat to low, stir-fry the vegetables for about 30 seconds. Add sugar and coriander, stir fry for another 5 minutes or until vegetables are tender. Add lemon juice. Remove red chilli before serving.
KAAJU BURFI OR KAJU KATLI
Ingredients :
2 cups of finely grounded Cashew powder
1/4 cup Milk
3/4 cup Sugar
Few silver vark for decoration
Preparation :
Heat milk in a large pot and add sugar.
When it starts bubbling remove from stove and add cashew powder little at a time. Mix well making a thick form. You may add more powder if needed for making thick.
Pour the mix on a wax paper or thali. Press and spread with your palms for making thin burfi.
Put silver vark on top if you wish.
Let it cool completely before cutting in burfi shape.
Put in a airtight container and keep in a cool place.
Diwali Recipe Contributed by: Madhuri Sharma